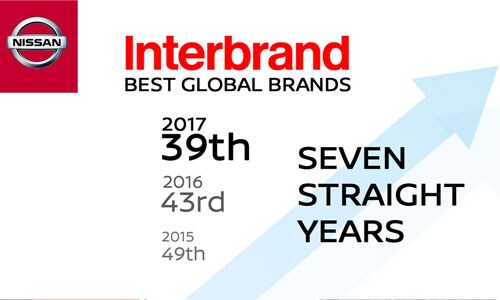 Nissan still the world's most valuable automotive brand.
Nissan has been named as one of the world's most valuable brands in 2017 by Interbrand.
Nissan is ranked at number 39 in Interbrand's annual Best Global Brands study.
The study praises Nissan's actions to improve brand value with its Nissan Intelligent Mobility strategy. It also sheds light on customer benefits provided by Nissan such as autonomous driving technologies and electric vehicles. Nissan has been recognized by Interbrand as one of the world's most valuable brands for seven years in a row.
This recognition reflects Nissan's focus on Nissan Intelligent Mobility which included the launch of new products such as the e-POWER series hybrid system and ProPILOT Assist.
"Brand power has been a consistent focus across the company for the last six years, and it's very encouraging that all our efforts continue to be recognized by this influential brand ranking," said Roel de Vries, corporate vice president and global head of marketing and brand strategy at Nissan. "The fact that we continue our growth proves that our activity focusing on Nissan Intelligent Mobility and our vision for the future of driving is appealing. With the launch of the new LEAF, we are hoping to see further improvement in our brand," added Vries.
The report by Interbrand looks at various categories such as investment and management of each brand as a business asset. It also takes into account brand's strength and financial performance.
If you would like to get more information on the 2017 Interbrand study, visit: